Archive for the 'Miscellaneous Musings' Category
Thursday, October 11th, 2012
buy generic clomid online
"300″ height="80″ />So, Billboard decided to completely change its chart methodology today:
Billboard unveils new methodology today for the long-standing Hot Country Songs, Hot R&B/Hip-Hop Songs and Hot Latin Songs charts. Each receive a major consumer-influenced face-lift, as digital download sales (tracked by Nielsen SoundScan) and streaming data (tracked by Nielsen BDS from such services as Spotify, Muve, Slacker, Rhapsody, Rdio and Xbox Music, among others) will now be factored into the 50-position rankings, along with existing radio airplay data monitored by Nielsen BDS. The makeovers will enable these charts to match the methodology applied to Billboard's signature all-genre songs ranking, the Billboard Hot 100.
On the surface, this seems like a good idea. After all, the country singles chart included both sales and airplay data for decades, until switching to airplay-only in 1989. Declining availability of retail singles made this change necessary.
Since the digital market emerged, I've been an advocate for bringing sales data back into the mix. There have been a few songs that were very popular with country audiences that radio didn't embrace, like "I am a Man of Constant Sorrow", "Hurt", and "Not Ready to Make Nice", but were mainstays on country video outlets and sold plenty of digital downloads alongside impressive album sales. The digital singles market also indicated the budding popularity of acts like Miranda Lambert and Eric Church, who have since become core radio acts.
So what's the problem with the change? This:
The immediate beneficiaries of this week's methodology change are Taylor Swift, Rihanna and Mumford & Sons.

Swift, who holds down the top two slots on Hot Country Songs with "We Are Never Ever Getting Back Together" and "Red." Her new country radio single "Begin Again" jumps 37-10. The pop-crossover No. 1 title ranks at No. 36 on Country Airplay (but also gets points associated with its pop-crossover play) and No. 1 on Country Digital Songs, while "Red" is absent from the Country Airplay list, but ranks No. 2 on Country Digital Songs. "Begin Again" appears at No. 29 on Country Airplay and No. 3 on Country Digital Songs.
There are so many problems here. First, and probably worst, pop airplay is now counting for the country genre chart. This week's "#1 country song" would've been #36 if the methodology hadn't changed. A song that was most notable for being the first song that country radio refused to play by Taylor Swift, because it had no business being on country radio in the first place. It is not a country hit that crossed over to pop. It's a pop hit that failed to cross over to country.
#2 isn't even a country single. It's an advance download track previewing Swift's new album. It will drop like a stone next week, much like it will on the Hot 100, where it enters at #6. But the Hot 100′s breadth is able to absorb tracks like this more easily, and it is almost impossible to get that high without at least some radio support. The #2 country single of the week wasn't played on country radio this week.
Billboard says it's modeling the new genre charts after the Hot 100, much like the way the genre album charts mirror the Billboard 200:
The move to the Hot 100-based formula will ensure that the top-ranked country, R&B/hip-hop, Latin and rock titles each week will be the top titles listed on each genre's songs ranking. This will be in line with how the Billboard 200 albums chart aligns with the albums charts for each corresponding genre. Because of the switch to new methodology, the week-to-week movements on the charts for some songs (in either direction) could be quite dramatic.

Until now, only country stations contributed to the Hot Country Songs chart, or R&B/hip-hop stations to Hot R&B/Hip-Hop Songs; the same held true for Latin and rock. The new methodology, which will utilize the Hot 100′s formula of incorporating airplay from more than 1,200 stations of all genres monitored by BDS, will reward crossover titles receiving airplay on a multitude of formats. With digital download sales and streaming data measuring popularity on the most inclusive scale possible, it is only just the radio portion of Billboard chart calculations that includes airplay from the entire spectrum of monitored formats.
Big mistake. Albums sales are album sales. If x sells more than y, it's higher on the album chart. Apples to apples. Each genre singles chart has its own idiosyncrasies, reflecting the different ways that music is received by the audience.
Despite all the new methods of delivery, country music's primary method of distribution remains the radio. It may be the only thing left that is identifiably "country" in mainstream music. The vast majority of country artists do not pursue the pop market in lieu of the country market. At most, they pursue pop as well as country, but usually wait until the song's a hit at their home format first.
The big crossover hits of years past – "Need You Now", "You're Still the One", "Before He Cheats" – would've done very well under this new format, but would likely have spent more time at #1 when they were dominating top forty radio and the song was already a recurrent at country stations. Instead, they went #1 on the country chart when country radio was playing them, then flew up the pop charts a few weeks later, while a new single was hitting the country market.
This new chart methodology is bad enough as it is now. But what will happen when the labels realize the only way to have a #1 country hit is to get your song to be a pop hit, too?
There are so many other problems with this, including the increased challenges of breaking new country acts and the likelihood that digital single releases will now become more strategic than ever. (Remixes! Acoustic versions! Buy them separately so they each count as their own sale!)
I guess I just don't see the point of having a country chart at all if it isn't going to measure just the country market.
Sunday, August 19th, 2012
Hank Williams Jr. has been making headlines this weekend.  Perhaps you've heard?
At an Iowa State Fair performance, he sang one of his latest songs, "We Don't Apologize for America."   He followed the performance with this statement:
"We've got a Muslim president who hates farming, hates the military, hates the U.S., and we hate him."
I don't really care much what Hank Jr.'s politics are, and I don't really care if he espouses his views from the stage. Obviously, the feelings of hate he projects on to the president and on this audience are a matter of opinion. I believe they are misguided and poorly supported opinions, at least regarding how the president feels about farming, the military, and the U.S., but they are opinions nonetheless.
In truth, his words are a fairly typical caricature of what a person on the left believes, made doubly unbelievable when describing a man who is actually the Commander in Chief of the military and has dedicated his life to public service. But I think only the most ideologically blinded person would believe otherwise anyway.
I want to talk about the factual error he makes in describing President Obama as a Muslim president, an oft-repeated lie that one must be completely misinformed and/or terminally naive to believe.  Still, it's not the factual error that's bothering me. It's the othering that is deeply embedded in it.
Frankly, I am sick and tired of "Muslims" and "lovers of America" being treated as mutually exclusive groups.  It disgusts me to see the faith practiced by more than 2.5 million Americans as an epithet. I'm not even going to bother qualifying that statement by noting that there's a good chance Hank Jr. has never met a Muslim person or is simply unaware about the actual tenets of the religion and the  Americans who follow it.
I'm not going to bother because there is no excuse for being so ignorant. Not in the globalized world we live in. Not in the richly diverse country that we live in.  Not when we have so many thousands of years of recorded history where dividing a nation's population into "us" vs. "them" has resulted in so many horrific acts of violence, genocide, and oppression.  Not when there are so many other marginalized groups that are dismissed, devalued, and degraded because they are "them" and not "us."
From the Iowa State Fair stage on Friday night, Hank Williams Jr. made a blatant appeal to the most base and vile instinct that lurks in the darkest parts of us: "You are not like me.  You do not believe what I believe.  You are the enemy."
I'm sure Hank  would be quick to profess his deep and unwavering love for America. How tragic that he has so much contempt and vitriol for millions of his fellow Americans.
Thursday, May 17th, 2012
Donna Summer, disco legend, passed away today at the age of 63.
Much like my earlier post on Whitney Houston's untimely passing, writing about Summer's death isn't completely foreign to our topic of country music.
Whereas Dolly Parton wrote a #1 pop hit by Whitney Houston, Donna Summer wrote a #1 country hit for Dolly Parton.
"Starting Over Again" is anything but a disco number.  It's a tender tale of a middle-aged couple divorcing after their children are grown:
Reba McEntire also covered the song in 1995, taking it back to the top twenty:
Summer co-wrote many of her classic hits, including "Love to Love You Baby", "Dim All the Lights", "I Feel Love", "Bad Girls", and "She Works Hard for the Money." But my favorite of her compositions is "On the Radio", which I actually heard first by Emmylou Harris as a straight-up heartbreaking ballad:
Needless to say, I was taken aback by the disco beat when I finally heard Summer's original version.
I haven't been writing much lately, but I couldn't let the passing of this timeless talent go by without comment.  Like Houston before her, she was a great singer who went too soon, and country music's legacy was just a little bit richer for her passing through.
Friday, January 6th, 2012
Nearly three years ago, writing-starved and delirious at 1 in the morning, I sent Kevin a rambling e-mail asking if he'd consider having me write a few guest posts here at Country Universe. He graciously took me in as a staff writer, and I've since had the privilege of sharing my passion for country music –wacky and irrational though it may be– with all of you.
But this blog hasn't just scratched my writing itch and strengthened my relationship with the genre; it's introduced me to a family of writers who I can't quite imagine my life without. Dan once wrote that blogs aren't about regular people posing as high-and-mighty critics, but about word-of-mouth. They're the internet equivalent of a trusted friend.
To be sure, "friend" is a questionable term in this digital era, thrown around more carelessly than it's ever been. But I'd like to think that at Country Universe and in the larger country music blogosphere, it has a richer meaning. This a community in which critics, bloggers, readers, listeners and even artists are all cut from the same cloth, whether we choose to recognize it or not.
Within our own Country Universe family, some of us have met in person, but most of us haven't. As a team-building activity of sorts for the expanded staff, we recently took a Jung / Briggs Meyers personality test to get to know each other on a more personal level. Accurate or not, the below results are a fun window to the part of life in which we don't get to interact.  In some cases, they also provide interesting insight to the way we approach, dissect and appreciate music on this blog.
Which brings me to you – the readers, who are as much a part of this blog as the music itself.  We want you to get to know us a little better, but more importantly, if you're comfortable doing so, we'd love for you to share your own personality test results or a tidbit about your life. Sound off below, and thanks as always for being part of the Country Universe family.
Noah Eaton & Dan Milliken – ENFP (Extraverted Intuitive Feeling Perceiving)
ENFPs are both "idea"-people and "people"-people, who see everyone and everything as part of a cosmic whole. They want to both help and to be liked and admired by other people, on both an individual and a humanitarian level. This is rarely a problem for the ENFP, as they are outgoing and warm, and genuinely like people. Some ENFPs have a great deal of zany charm, which can ingratiate them to more stodgy types in spite of their unconventionality.
ENFPs often have strong, if sometimes surprising, values and viewpoints. They tend to try to use their social skills and contacts to persuade others gently (though enthusiastically) of the rightness of these views; this sometimes results in the ENFP neglecting their nearest and dearest while caught up their efforts to change the world.
Read more: http://typelogic.com/enfp.html
Ben Foster & Leeann Ward – ISFJ (Introverted Sensing Feeling Judging)
ISFJs are characterized above all by their desire to serve others, their "need to be needed." In extreme cases, this need is so strong that standard give-and-take relationships are deeply unsatisfying to them; however, most ISFJs find more than enough with which to occupy themselves within the framework of a normal life. (Since ISFJs, like all SJs, are very much bound by the prevailing social conventions, their form of "service" is likely to exclude any elements of moral or political controversy; they specialize in the local, the personal, and the practical.)
ISFJs are often unappreciated, at work, home, and play. Ironically, because they prove over and over that they can be relied on for their loyalty and unstinting, high-quality work, those around them often take them for granted–even take advantage of them. Admittedly, the problem is sometimes aggravated by the ISFJs themselves; for instance, they are notoriously bad at delegating ("If you want it done right, do it yourself").
Read more: http://typelogic.com/isfj.html
Jonathan Keefe – ENFJ (Extraverted Intuitive Feeling Judging)
ENFJs are the benevolent 'pedagogues' of humanity. They have tremendous charisma by which many are drawn into their nurturant tutelage and/or grand schemes. Many ENFJs have tremendous power to manipulate others with their phenomenal interpersonal skills and unique salesmanship. But it's usually not meant as manipulation — ENFJs generally believe in their dreams, and see themselves as helpers and enablers, which they usually are.
ENFJs are global learners. They see the big picture. The ENFJs focus is expansive. Some can juggle an amazing number of responsibilities or projects simultaneously. Many ENFJs have tremendous entrepreneurial ability. ENFJs are organized in the arena of interpersonal affairs. Their offices may or may not be cluttered, but their conclusions (reached through feelings) about people and motives are drawn much more quickly and are more resilient than those of their NFP counterparts.
Read more: http://typelogic.com/enfj.html
Sam Gazdziak – ISTJ (Introverted Sensing Thinking Judging )
ISTJs are often called inspectors. They have a keen sense of right and wrong, especially in their area of interest and/or responsibility. They are noted for devotion to duty. Punctuality is a watchword of the ISTJ. The secretary, clerk, or business(wo)man by whom others set their clocks is likely to be an ISTJ.
As do other Introverted Thinkers, ISTJs often give the initial impression of being aloof and perhaps somewhat cold. Effusive expression of emotional warmth is not something that ISTJs do without considerable energy loss. ISTJs are most at home with "just the facts, Ma'am." They seem to perform at highest efficiency when employing a step-by-step approach.
Read more: http://typelogic.com/istj.html
Tara Seetharam & Kevin John Coyne - INFJ (Introverted Intuitive Feeling Judging)
INFJs are distinguished by both their complexity of character and the unusual range and depth of their talents. Strongly humanitarian in outlook, INFJs tend to be idealists, and because of their J preference for closure and completion, they are generally "doers" as well as dreamers. This rare combination of vision and practicality often results in INFJs taking a disproportionate amount of responsibility in the various causes to which so many of them seem to be drawn.
INFJs are deeply concerned about their relations with individuals as well as the state of humanity at large. They are, in fact, sometimes mistaken for extroverts because they appear so outgoing and are so genuinely interested in people — a product of the Feeling function they most readily show to the world. On the contrary, INFJs are true introverts, who can only be emotionally intimate and fulfilled with a chosen few from among their long-term friends, family, or obvious "soul mates."
Read more: http://typelogic.com/infj.html
Monday, November 28th, 2011
Lately, I've been playing "Deep Down" on a loop, and it got me thinking…
What if one of the big female artists of 2011 were the first to release this song?
If Carrie Underwood recorded it in 2011, the song would be praised as one of the best she's ever recorded, but she'd be criticized for over-singing and over-producing it.
If Taylor Swift recorded it in 2011, the song would be praised as one of the best she's ever recorded, but she'd be criticized for missing every other note, even with the help of auto-tune.
If Miranda Lambert recorded it in 2011, the song would be praised as one of the best she's ever recorded, and further evidence that she's the messiah of contemporary country music, regardless of how she sang or produced it.
But alas, Pam Tillis recorded it in 1995, and the song went largely unnoticed, because a great song with a great vocal performance and a great production was expected, not special, coming from her.
This same post could've been written about  "Nothin' But the Wheel", "Believe Me Baby (I Lied)", "Aces", "Is It Over Yet", "I Guess You Had to Be There" or "Standing Knee Deep in a River."
Perhaps the best way to listen to country music in 2011 is not to listen to anything else in the genre's history. That way the illusion that there is some great contemporary country music out there can be preserved.
Tuesday, November 15th, 2011
Cover songs can be a hot topic at just about any given time.  We recently got to hear a somewhat underwhelming OneRepublic cover by Faith Hill, which Kevin recently reviewed.  Other recent attempts include Sara Evans' pop-country reworking of Rod Stewart's "My Heart Can't Tell You No," as well as last year's polarizing Beyoncé cover by Reba McEntire.
Since cover songs are so much fun to talk about, I thought I'd weigh in on a few well-known cover songs from the past few years – the good ones, as well as a few that we would rather forget.  My criteria is simple:  A good cover song should bring something new to the table, and the song should be treated in a way that is well-suited to the artist as well as the genre.  This list focuses specifically on country covers of non-country songs.
Click the original artists' names in parentheses to hear the original versions.
Rosanne Cash, "I Don't Want to Spoil the Party" (The Beatles)
1989 | #1

Where it goes right:  Rosanne's last career hit was a cover from a Beatles tribute album, and it didn't sound quite like one might expect.  Though rarely one to use overt country instrumentation throughout most of her career, she delivers a brisk, upbeat take that's layered in fiddling.  I'll take it!
Grade:  B+

Mark Chesnutt, "I Don't Want to Miss a Thing" (Aerosmith)
1998 | #1

Where it goes wrong:  It's hard to imagine a worse pairing between song and performer.  Mark Chesnutt, the revered neotraditionalist behind "Too Cold at Home" and "Going Through the Big D" covering a rock power ballad?  It's true – complete with apologetic steel guitar fills and a vocal smothered in autotune.  The end result is so cheesy that you might as well slap it between two crackers.  The fact that this is the top Mark Chesnutt iTunes download is very very sad.
Grade:  D
Dixie Chicks, "Landslide" (Fleetwood Mac)
2002 | #2

Where it goes right:  The Chicks give a well-known Fleetwood Mac favorite a stripped-down bluegrass treatment, which is a great fit for the nature-related imagery in the song's lyrics.  The Chicks elevate the song further with their gorgeous harmonies.  As much as I love Fleetwood Mac, I have to say that this version tops the original.  It's one of the best cover songs I've ever heard, and one of the Dixie Chicks' personal best moments, of which there have been many.
Grade:  A
Sara Evans, "I Could Not Ask for More" (Edwin McCain)
2001 | #2

Where it goes right:  Evans delivers a stunning and powerful vocal performance that holds nothing back whatsoever.
Where it goes wrong:  The arrangement is a bit syrupy, and it's essentially a pop cover of a pop song.  Is a little fiddle or steel too much to ask for?
Grade:  B
Faith Hill, "Piece of My Heart" (Erma Franklin, Janis Joplin)
1994 | #1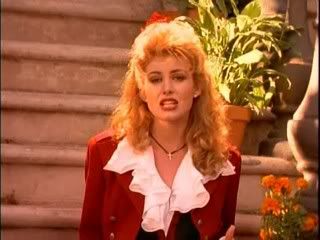 (Watch the video)
Where it goes right:  The fact that Hill was unfamiliar with the Franklin and Joplin versions is telling.  You can easily tell that she is making no attempt to emulate the style of another artist, instead giving a performance totally her own, while the songs's melody fits well with the countrified arrangement.
Where it goes wrong:  Again, the fact that Hill was unfamiliar with the previous versions is telling.  Her performance lacks the fire and fury of Joplin's version, which makes it easy to see why one might consider Hill's performance to be a bit too sugary.
Grade:  B-
Alison Krauss, "Baby, Now That I've Found You" (The Foundations)
1995 | #49

Where it goes right:  Krauss takes a forgettable Motown tune, and delivers a slowed-down mid-tempo version that much more deeply accentuates the emotions conveyed in the lyrics.  In contrast, the original sounded like one big party, which is an ill-fitting treatment of a song about trying to stop one's lover from leaving.  The track is made all the more sweeter by Kruass' angelic vocals, and by the expert instrumental backup of Union Station.  The song went on to win Krauss a well-deserved Grammy for Best Female Country Vocal Performance.
Grade:  A
Reba McEntire, "Cathy's Clown" (Everly Brothers)
1989 | #1

Where it goes right:  It's extremely effective as a reinterpretation, as McEntire slows the song down to an emotional ballad, and tweaks the lyrics to fit her feminine perspective.  Did I mention that she also gives a mighty fine vocal performance?
Where it goes wrong:  The production is a bit watered-down, which was not unusual for Reba's late eighties and early nineties output.
Grade:  B+
Pam Tillis, "When You Walk In the Room" (Jackie DeShannon)
1994 | #2

Where it goes right:  Tillis could hardly have chosen a better song to countrify, as the lyric about a nervous encounter with an old flame fits right in with classic country music.  She even tweaked the instrumental opening so as to be better suited for the steel guitar, which demonstrates her strong commitment to the country genre.
Grade:  A
Travis Tritt, "Take It Easy" (The Eagles)
1994 | #21

Where it goes right:  The Eagles were about the countriest rock band you'd ever meet, and did a great deal to influence the evolution of country sounds and styles, so they were a fitting candidate for an all-country tribute album.  The centerpiece of the collection was honky-tonker Travis Tritt's version of "Take It Easy" – an energetic performance that had even more body than the original, but that still felt reverent toward the legendary group's classic version.
Grade:  A
Conway Twitty, "The Rose" (Bette Midler)
1983 | #1

Where it goes right:  Nowhere.
Where it goes wrong:  Everywhere. (Can you say bad karaoke?)
Grade:  D
Jimmy Wayne, "Sara Smile" (Hall and Oates)
2009 | #31

Where it goes wrong:  To put it simply… reinterpreting a song does not mean simply "adding a banjo line."  The fact that Hall and Oates even sing background vocals on this track only adds to the overall feeling of pointlessness.
Grade:  D+
Mark Wills, "Back at One" (Brian McKnight)
1999 | #2

Where it goes wrong:  If it made for an awfully cheesy pop song in the hands of Brian McKnight, it made a flat-out terrible country song when Mark Wills covered it a mere two months after the release of the McKnight version.  It's a record characterized by superfluous genre-pandering steel guitar fills, and a lead vocal that sounds more occupied with grooving to the beat than making any sort of emotional connection.  The song peaked at #2, and then Wills tackled a Brandy song immediately afterwards.  Seriously, dude?
Grade:  C-
Dwight Yoakam, "Suspicious Minds" (Elvis Presley)
1992 | #35

Where it goes right:  Covering an Elvis song is a tall order, to say the least.  The fact that Yoakam's version rivals the original, with its contemporized arrangement and knockout lead vocal, is hardly a small feat.
Grade:  A
What's your take on these tunes?  What are your favorite cover songs?  What are your least favorite cover songs?
Category Miscellaneous Musings
Tags: Alison Krauss, Alison Krauss & Union Station, Conway Twitty, Dixie Chicks, Dwight Yoakam, Elvis Presley, Everly Brothers, Faith Hill, Jimmy Wayne, Mark Chesnutt, Mark Wills, Pam Tillis, Reba McEntire, Rosanne Cash, Sara Evans, The Eagles, The Everly Brothers, Travis Tritt
Monday, September 12th, 2011
The terrorist attacks on American soil ten years ago changed the course of our nation's history in far more significant ways than just its impact on country music.
But the fact is that country music was changed as well.  Here are the four biggest ways that it did, for better and for worse.
1. Alan Jackson Becomes a Legend
He was still getting solid radio airplay and record sales in 2001, but it seemed like his glory days were behind him. Then, he stepped on to the CMA Awards stage and debuted "Where Were You (When the World Stopped Turning)" to a stunned industry crowd on national television.
It was the perfect song by the perfect artist at the perfect time, and it launched an amazing return to the head of the pack.  The commercial success was great, but it's worth noting that "Where Were You" served notice that he was undergoing an artistic renaissance as well.   The big hits that followed – "Drive (For Daddy Gene)", "It's Five O' Clock Somewhere," and "Remember When" – were the best of his career.  Heck, of anybody's career.
2. Toby Keith Becomes a Superstar
On the same night that Jackson performed his instant classic, Toby Keith just sang his latest hit, the novelty number "I Wanna Talk About Me."  But the following spring, he came out with the next quintessential post-9/11 anthem, "Courtesy of the Red, White and Blue."
While it didn't lead to nearly the same level of artistic growth that Jackson experienced, it did launch Keith into the rarefied air of country superstardom.  For most of the next decade, he'd be an instant add at radio.  And if some of those hits made us wince, it was still great to see the finest male vocalist of his generation get his due.   For those of us who thought that he was robbed at radio and industry award shows in the nineties, it was rewarding to see him have his day.
3. The Politicization of Country Music

National unity began to fade in the run up to our invasion of Iraq, and country radio picked a side, much to the detriment of the format.  The shamelessly jingoistic "Have You Forgotten?" became a seven week #1 for Darryl Worley, while a criticism of President Bush wiped the Dixie Chicks off of the radio dial.
The upshot?  Country radio sent the message that if you weren't on board with the Bush Administration, you better keep your mouth shut.   Then again, with Worley's career fading soon after "Have You Forgotten?", opening it was no guarantee for long-term success, either.
4. Female Domination of the Genre Evaporates
This was the worst of it.   Country record sales exploded in 2002, and the industry credited it to traditionalists Jackson and Keith.   Radio drew the conclusion that  listeners didn't want any more pop-flavored country, despite the fact that two of the biggest selling albums of the year were by Shania Twain and Faith Hill.
Both ladies struggled at radio with their top-selling projects, and the careers of Lee Ann Womack and SHeDaisy nearly ended.   Even ten years later, with the top-selling artists being Taylor Swift and Carrie Underwood, most female artists are still struggling to get radio play.
Thursday, September 1st, 2011
I didn't expect much.
I've had the Adele album for a good bit now, and "Someone Like You" is my favorite track on it.  I'd already heard how the song shot to #1 in the U.K. after she performed it on the Brit Awards.
I checked out that performance, and thought it was good. Not great, but good.
So when I heard all the buzz about her performance of the song on Sunday's MTV Awards, I didn't rush to check it out, and ended up just watching it last night out of boredom.
I can't tell if it's because she was a bit hoarse, or if she was trying to hold back her tears. Either way, it was so stunningly powerful that I was even a bit shaken up by the whole thing.
I know that there's going to be the inevitable claims of authenticity and real talent and such, which makes sense given the pop landscape that she's performing in.  But honestly, it's been a really long time since anything has happened on a country music stage that's even come close to what Adele pulled off that night.
It reminded me of Reba McEntire's performance of "For My Broken Heart" on the 1991 CMA Awards.  She's a seasoned pro who rarely misses a note, but she tears up so much in the final chorus that she can't get the notes out, and imperfection that makes the performance timelessly perfect:
I can't find the clip online, but it also reminded me of Vince Gill singing "The Key to Life" on the 1998 show, also breaking down in the final few lines of the song.  I miss moments like this in country music.
No wonder I'm so awfully disinterested in country this year.  Besides the usual mainstream drivel, I've also been disappointed by new albums from usually reliable folks like Dolly Parton, Todd Snider, Alison Krauss & Union Station, and even Emmylou Harris.   I've taken to pretending that The Civil Wars are somehow country so that I don't write the genre off completely this year.
The only thing I've really loved so far?  Matraca Berg's The Dreaming Fields.  It's got that same rawness that must be speaking to me for some reason these days.  There's no chance of Berg making it back on the radio in 2011, but with all the shameless format-hopping that's been allowed by country programmers in recent years, maybe we can get them to give a few spins to Adele.
Monday, May 2nd, 2011
On behalf of the entire staff of Country Universe, I must express our sadness that The 9513, the internet's premier country music blog, is being retired.
I remember when Brady and Brody Vercher first launched their website, and I watched in awe as it completely redefined the landscape for what a country music blog could be.
The caliber of writing, the breadth of music covered, and the overall excellence in content didn't just raise the bar for online country music journalism.  It created a rising tide that elevated all of us, partly because they made us work harder, but mostly because they always used their larger platform to shine the spotlight on lesser-known blogs like this one.
They discovered so many incredible writing talents that it's impossible to list them all, but I'll especially miss reading the musings of Juli Thanki and Karlie Justus, the insights of Chris Neal, the wry commentary of C.M. Wilcox, and the irreplaceable historical writings of Paul W. Dennis. I know that their talent will remain and resurface in other places, but I truly doubt that there will ever be another place like The 9513, where so much talent resided in one place, under the brilliant leadership of the brothers Vercher.
Friday, April 8th, 2011
This post, originally written on September 19, 2005, seems to have disappeared from the Country Universe archives when we switched over to self-hosting. I'm reposting it today for the sake of posterity.
I'm starting to wonder if the people I like and can get along with all fall into one category and the people I can't stand to be around or have a conversation with fall into another. The categories?
1 – You believe that you have a moral obligation to other people, and live your life accordingly.
2 – You look out for yourself primarily, and what you feel is best for you informs any obligation you feel to other people.
I'm sure I'm oversimplifying this, but as I've cemented my foothold into adulthood, I find I can't stomach selfishness anymore. I can't have a calm conversation with somebody who reveals a complete lack of concern for other people in the process. I can't stand people who voice opinions without having enough information, or basing beliefs on incorrect information. Yes, I do believe that if you're a member of a society, you have a moral obligation to be an informed one; indifference to ignorance can cause a tremendous amount of damage.
I thought for a long time that being a good person meant you have to be as nice as possible and as patient as possible with everybody you meet. I thought that being a good friend meant overlooking faults and allowing yourself to be the one with hurt feelings so you don't hurt anybody else. I thought that being outwardly sensitive meant not being inwardly sensitive.
I forgot the lesson my greatest teacher taught me: "Avoid toxic people." If someone is affecting your mental well-being, cut them off. It's a nice lesson. But I've adjusted it. For me these days, it's "Confront toxic people." Stand up for the truth. If somebody is revealing a complete lack of humanity and/or knowledge, call them on it. They are a poison to society.
Toxic people will single out what makes you special and try to convince you it makes you inferior. Toxic people will take more than they ever give, but when they do give, they'll make you feel guilty about it. Toxic people will do their best to invoke pity, the most pathetic and selfish emotion there is to invite. Toxic people won't kill you, but they will drain your love of life.
I'm all for compassion and sensitivity. But if it comes at the expense of your own well-being, you're being used and exploited.
Yes, this is geared toward some people close to me who are dealing with people like this right now in their lives. You deserve better. Walk away, or confront, but don't endure those people any longer. You'll be much happier in the end.