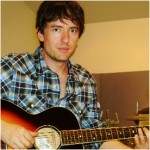 Though his career lasted about two years and ended tragically more than 50 years ago, Buddy Holly continues to impact and influence the music world. Part of it is his mystique: unlike many of his contemporaries, Holly never grew old, never had a scandal derail his career and never found himself wasting away on some oldies circuit. He's the eternally young, energetic, slightly geeky-looking rock & roller with the hiccup in his voice and a Fender Stratocaster in his hands.
Mystique only goes so far, though. Holly left behind a strong collection of songs that have aged extremely well – mainly because they're constantly being reinvented. His songs have been covered by hundreds of singers, across every music genre imaginable. Just this year alone, in commemoration of his 75th birthday, Buddy Holly tribute albums have featured both of the surviving Beatles, Lyle Lovett, Florence + The Machine, My Morning Jacket, Cee Lo Green and Justin Townes Earle.
Add to that mix Words of Love: Songs of Buddy Holly by Nashville's Paul Burch. Much like the way Holly's music has a timeless quality, Burch's combination of classic country, blues and rock & roll has its roots in the 1950s and '60s but never sounds dated. Beginning with 1998's Pan-American Flash through 2009's Still Your Man, Burch has released a series of critically acclaimed albums and recorded with luminaries such as Ralph Stanley and Mark Knopfler.