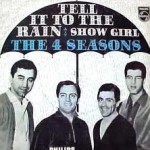 Today's category is…
An Oldie But Goodie.
Here are the staff picks:
Kevin Coyne: "Tell It to the Rain" – The 4 Seasons
You can tell it's the mid-sixties because they're dabbling a bit with production gimmicks. I think it's their coolest sounding record, one of their best compositions, and Frankie Valli at the peak of his vocal prowess.