What's the correct controversy name here? Bryangate? Charlie Daniels Charitygate? Slapgate?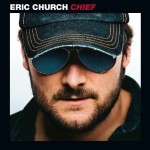 Eric Church
Chief
On his new album, Eric Church sings that we need "Some longhaired hippie prophet preaching from the book of Johnny Cash/A sheep among the wolves there standing tall/We need a country music Jesus to come and save us all."
Bear in mind that he's singing these lines on an album loaded with distorted vocals and sound effects, guitar solos closer to Three Doors Down than Cash, and a song about Bruce Springsteen.