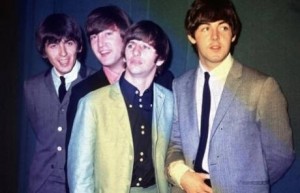 I've been working my way through the Beatles Remasters that were released earlier this week, thoroughly enjoying myself in the process. As I listened to Help!, I heard Ringo Starr doing his best Buck Owens imitation as they covered "Act Naturally."
It's pretty darn cool that the Beatles covered Buck Owens, and plenty of country artists have returned the favor ever since. With the Beatles all over the media these days, it seems as good a time as any to look back on some of country music's biggest and best takes on the Beatles catalog:
Rosanne Cash, "I Don't Want to Spoil the Party" and "I'm Only Sleeping"
Cash is the only country artist to score a #1 hit with a cover of a Beatles song, as her take on the Beatles For Sale track "I Don't Want to Spoil the Party" became her eleventh and final #1 hit in 1989. An even better listen is her take on "I'm Only Sleeping" from her Retrospective release. It doesn't hurt that it's a much better song than "Party", pulled from Revolver, arguably the best album the Beatles ever made.
Nickel Creek, "Taxman"
This progressive bluegrass band sounds great on record, but you don't really get the full experience of their talent until you've seen their live show. Perhaps all of those royalties from their platinum-selling debut album pushed them into a higher tax bracket, as "Taxman" – another Revolver highlight – soon became a staple of their live shows.