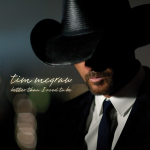 Flipping through an old country magazine, I read a review of Tim McGraw's then-new album, Everywhere.
The journalist noted his surprise at the title track, which demonstrated more subtlety and gravitas than he'd previously thought McGraw was capable of.
That was so many years ago that it's hard to remember that McGraw was something of a novelty singer back in the day, a step or two above Billy Ray Cyrus but not quite up there with Joe Diffie.