What would the Dixie Chicks' first US tour in a decade be without at least a little bit of controversy?
It's going down this week, and Keith Urban is the one yelling, "Timber," with Pitbull.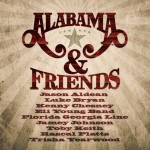 Various Artists
Alabama & Friends

To recognize the impact that Alabama has had on modern country music, you could consider their millions of albums sold, their hundreds of awards, their many #1 songs or their induction into the Country Music Hall of Fame in 2005. You could also look at how the boys from Fort Payne, Ala. have the distinction of bringing something entirely new into country music.