Country radio needs to be "Fix"ed.

For the second year, Country Universe is publishing a 40-deep list of the year's best albums. Part One includes releases from talented newcomers, genre legends, and quite a few entries from the outskirts of country music. As usual, that's where most of the cool stuff can be found.
Country Universe will close out our year with the conclusion of this list tomorrow. As always, share your thoughts and opinions in the comments!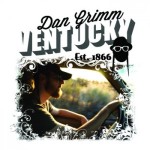 #40
Ventucky
Dan Grimm
Individual rankings: #12 – Jonathan
The EP format doesn't leave much margin for error, but with a knack for unconventional imagery and a style that blends vintage SoCal rock with authentic honky-tonk, Dan Grimm ensures that every track on his freewheeling, endlessly likable Ventucky is a standout. – Jonathan Keefe

Recommended Tracks: "Skeletor," "300 Beers"