"B.Y.H.B. (Bring Your Hot Body)" Uncle Ezra Ray featuring Mark McGrath, Uncle Kracker, and Kevin Griffin) No.

After the enormous success of the Up! project, Shania Twain released a top-selling Greatest Hits album in 2004, which spawned three singles.  She then embarked on an extended hiatus before returning in 2011 with a new single and a reality series on The Oprah Winfrey Network.  In this set of retro single reviews, we'll take a look at Twain's six most recent single releases to date.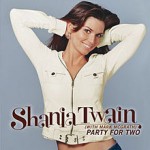 "Party for Two" (with Billy Currington or Mark McGrath)
2004
Peak:  #7
The first single from Twain's Greatest Hits package was her last Top 10 country hit to date, but only the second Top 10 hit for her then-up-and-coming duet partner Billy Currington.  The premise is shamelessly silly, as are the spoken word intro and the "You'll be sexy in your socks" line, but Twain and Currington sell it with flair.  Twain delivers her verses with a flirty, playful performance, while Currington renders his with the same laid-back smolder that would become his calling card at country radio.