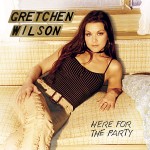 Today's category is…
A Song You Used to Love But Now You Don't.
Here are the staff picks:
Dan Milliken: "Homewrecker" – Gretchen Wilson
Here for the Party came out when I was fourteen and just getting really into country music, and it was so much fresher than most of the mainstream stuff at the time that it instantly became one of my favorite albums. "Homewrecker" wasn't my favorite on the set (that was "Chariot," which still sounds cool), but I did find it amazingly clever and funny in a way I couldn't once I had gotten properly acquainted with Loretta Lynn.