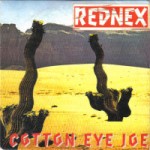 Today's category is…
A Song That Makes You Want to Dance.
Here are the staff picks:
Leeann Ward: "Cotton Eye Joe" – Rednex
Just as I don't sing, I also don't do much dancing. A song that makes me want to dance, however, should also double as my guilty pleasure choice. Chalk it up to association with childhood memories.