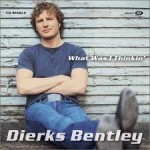 Today's category is…
A Song You Used to Hate But Now You Don't.
Here are the staff picks:
Leeann Ward: "What Was I Thinkin'" – Dierks Bentley
When this song was making its chart run, I didn't like it at all. Apparently, my ears were clogged then. About three years ago, I suddenly realized that I loved it. How couldn't I love it, especially with Randy Kohrs' riveting slide guitar action?


Hello.
This is going to be a really important show, you guys.
WINNERS
Entertainer of the Year: Taylor Swift
Top Female Vocalist: Miranda Lambert
Top Male Vocalist: Brad Paisley
Top Still-Deciding Vocalist:
Album of the Year: Lady Antebellum, Need You Now
Song of the Year: "The House That Built Me"
Single of the Year: "The House That Built Me"
Couple of the Year:
(^ Not to be confused with) Top Vocal Duo: Sugarland
Top Vocal Group: Lady Antebellum
Top New Artist: The Band Perry
Top Till You Drop:
Vocal Event of the Year: Zac Brown Band & Alan Jackson, "As She's Walking Away"
Music Video of the Year: Miranda Lambert, "The House That Built Me"