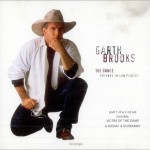 Today's category is…
A Story Song.
Here are the staff picks:
Tara Seetharam: "The Dance" – Garth Brooks
I'm not sure if this song really constitutes as a "story"song, but its metaphor is so beautifully written that it feels as rich as the best country songs in this category. Regret is a funny thing; sometimes it's easier to succumb to it than it is to own and embrace your memories – fleeting though they may be. Brooks takes this somewhat tried and true theme and spins it into a poignant, lovely tribute.