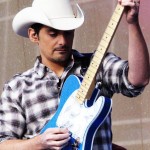 100 Greatest Men: The Complete List
A musician since receiving his first guitar at age eight, Brad Paisley emerged in the late nineties and became the most consistently successful radio artist in the decade that followed.
Paisley's career began in earnest when he penned his first song at age twelve, "Born On Christmas Day." His junior high principal invited him to perform at a local function. He was spotted by a representative of Jamboree USA, and after one performance, he was invited to join the cast.