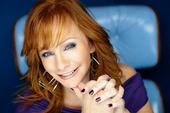 One of Country music's most respected female artists, Reba McEntire, has had an expansive career that has spanned three decades. Those who have assessed McEntire's longevity have rightly concluded that she has reinvented herself several times within her long career to adapt to the ever changing climate of country music.
By in large, she has been successful in finding ways to stay relevant, including associating herself with one of the hottest, though still relatively young, record companies in the business thanks, in part, to the meteoric success of Taylor Swift.
While this union with Valory Music (sister label to Swift's Big Machine Records) may seem odd at first glance, the fact that Reba had once worked with label president, Scott Borchetta, when he was MCA's Senior Vice President of Promotion, helps it all make more sense.
Incidentally, McEntire's second single from her anticipated debut album with Valory Music sounds much like the Reba McEntire singles that Borchetta had promoted in the nineties, as far as production is concerned. With an easy melody, listenable production and McEntire's typical quality vocal performance, "Consider Me Gone" is a solid effort by an artist who has managed to remain relevant on the public's radar, in one way or another, in a time when it is difficult for both older and/or female artists to receive significant attention in the world of country music.