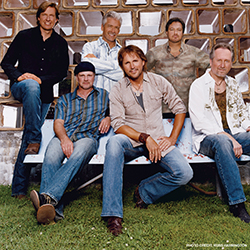 With four CMA and two ACM Awards and five Gold and two Platinum albums, Diamond Rio was the premier country group of the nineties. They were one of the few groups in country music to serve as the exclusive vocalists and instrumentalists on their studio albums while most other groups in country music utilized professional studio musicians and even singers to fill out their records.
Their sound was a mix of multiple influences, but Diamond Rio's music was not mistaken as anything other than country, which was particularly a result of the six vital member's distinct and tight harmonies and organic productions that all gelled together to form a tight vocal group in every sense.
Ten Essential Tracks
"Meet in the Middle"
from the 1991 album Diamond Rio
"Meet in the Middle" is famous for being the first debut single to reach the top of the country charts by a band. This song of commitment and compromise is both singable and relationally instructive. It also appropriately introduces Diamond Rio as a group with a unique sound that will soon be instantly recognizable on nineties country radio.