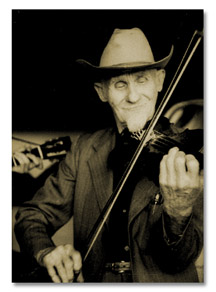 The entire story of recorded country music can be traced back to a fiddle player named Eck Robertson, "World's Champion Fiddler."
Robertson was the son of a Confederate soldier, born in Arkansas in 1887 and raised in Texas. His father made a living as a farmer and a preacher, but also taught his son how to play the fiddle. Robertson carried on the family tradition of playing fiddle, learning the instrument at the age of five years old. Once grown, he joined the traveling band of a medicine show.
Robertson married his wife Nettie, also a musician, in 1906. He became a piano tuner by trade, but Eck and Nettie would still perform in the Texas area, competing in fiddling contests and providing the musical accompaniment in silent movie theaters. It was in 1916, while playing at an Old Confederate Soldiers reunion, that he met Henry C. Gilliland, a veteran fiddler in his mid-seventies. The two became a powerful team, touring similar reunions across the south, with Robertson serving as lead fiddler and Gilliland playing second fiddle.