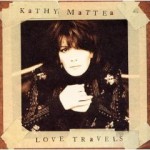 A repost from last year, in honor of Dr. King.
Beautiful Fool
Kathy Mattea
from the 1997 album Love Travels
Our antiseptic approach to the legends of American history often results in the life's work of Dr. Martin Luther King Jr. being reduced to four words and a three-day weekend. To prevent this in my own mind, I often revisit "Beautiful Fool", a Don Henry composition that can be found on Kathy Mattea's 1997 album Love Travels.
What I love about this song is its realism and its willingness to take on two voices of perspective at the same time. As an older woman reflects on King's impact on her country and the sacrifices he was willing to make, she remembers her far less charitable opinion of him when he was alive: "Walter Cronkite preempted Disney one night, and all us kids were so upset. We thought you were a trouble instigator marching through our TV set."