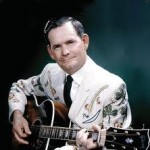 100 Greatest Men: The Complete List
He's best known for his handful of big hits for RCA in the late fifties and early sixties, but Hank Locklin's career stretched more than a decade in both directions.
A leg injury at the age of eight was the first significant event in his musical career, as he picked up the guitar during his recovery and its lingering effects later exempted him from service in World War II. While he didn't finish high school, he did win a talent contest at the age of eighteen, which led to a spot on local radio stations in panhandle Florida and the surrounding states.