Countless albums were released in 2010, in mainstream country music, Americana, bluegrass, and all the other loosely associated sub-genres that make up the country universe. Of those albums, our writers particularly enjoyed the following twenty. All four writers submitted top ten lists for th year, and amazingly enough, there were exactly twenty different albums among them. So if you're wondering if your favorite album just missed the list…it didn't. But we'd love to hear why we were wrong in the comments.
Enjoy part one now, and look for the top ten on Friday.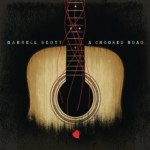 #20
A Crooked Road
Darrell Scott

Tomorrow's hits today, should the current crop of hitmakers want something as good on the radio as "Long Time Gone" or "It's a Great Day to Be Alive", or just want to have an album cut for the ages like "You'll Never Leave Harlan Alive." Scott's a singer's songwriter, delivering his songs with enough personality to elevate them above demos but leaving enough room for improvisation, so that any singer can put their own spin on it.