The slightly perceptible shift to more traditional sounding music on mainstream country radio carries on with Craig Campbell's debut self-titled album, which was produced by the venerable Keith Stegall. Campbell may not be a household name just yet, but his album's lead single is being warmly received so far and will likely continue to do so at least for the near future.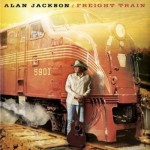 In one of Alan Jackson's most revered songs, "Where Were You (When the World Stopped Turning)", he describes himself as "A singer of simple songs." As proof of his sharp sense of self-awareness, Jackson can submit the greater part of his music catalogue as hard material evidence to support his claim.
Fortunately, in his case, "simple" has mostly translated to "transparent" rather than "amateur", which is surely a difficult balance to strike. And while he has been successful at it more often than not, even he hasn't always gotten it right.