As the nineties began, George Strait was the reigning CMA Entertainer of the Year, a title noted on the belt buckle he wore on the cover of Livin' it Up.
Around this time, Billboard switched to monitoring radio stations in real time, revealing just how often songs were really being played. So while all of his eighties #1 singles spent only a week at the top, all four of the #1 singles listed here spent multiple weeks in the penthouse, including two five-week runs at the top.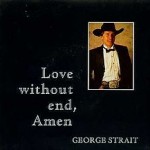 "Love Without End, Amen"
1990
Peak: #1
One of Strait's most enduring hits, "Love Without End, Amen" foreshadowed the understated religiousness of future hits like "I Saw God Today." A classic three act story song, it makes its point subtly and endearingly.