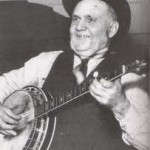 100 Greatest Men: The Complete List
Every country star with their salt longs to play the Opry stags. That's thanks in large part to Uncle Dave Macon, who helped put the Opry on the map.
Macon began performing at a young age, learning skills from the wide variety of guests who passed through his family's hotel. But he chose a career in freight trains instead, and settled for being an amateur performer until he was in his fifties.