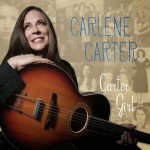 There have been a lot of new releases in the past few weeks. What tracks are resonating with you the most?
Here are three of my current favorites:
Carlene Carter, "Me and the Wildwood Rose"
from the album Carter Girl
"Me and the Wildwood Rose" was always one of my favorite Carlene Carter tracks. Back when it was released in 1990, it had a wistful nostalgia for the grandmother that she had lost. In 2014, all of the other folks mentioned in the song, including her little sister "the Wildwood Rose", have also passed on. The new version is so heavy with grief, it is only Carter's effervescent spirit that keeps it from being too heavy.