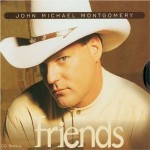 Friends
John Michael Montgomery
#2
1996
Written by Jerry Holland

Every once in a while, I read something that sparks a post. This week, it was The Boot's countdown of the Ten Best Friend Songs in Country Music.
As I scanned the list, I saw expected gems like Tim McGraw's "My Old Friend", along with curious selections such as Shania Twain's "Come On Over." Even #2 on the list was questionable: Garth Brooks' "Friends in Low Places" is as much about friendship as "The Dance" is about the Fox Trot.
Left off the list completely is the country song that I think best describes the nature of friendship. John Michael Montgomery's "Friends" may not have the scope and death of Plato's Lysis, but it captures the essence of friendships as well as anything else I've seen this side of ancient Greek philosophy.