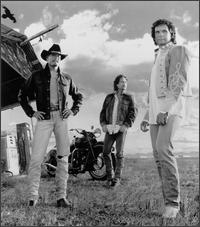 A group of veteran industry songwriters and performers came together as BlackHawk, and were quickly signed to Arista Nashville, a label that had already had success with Exile and Diamond Rio. Their debut album was a smash, selling double-platinum and spawning five hits.
The band wasn't able to match that success with future projects, despite scoring a handful of hits from their next three albums. Their sophomore set managed to sell gold on the strength of lead single "I'm Not Strong Enough to Say No", but future projects would miss that mark. The act also left a bad taste in the mouth among some industry members when they publicly complained that less successful acts were winning Vocal Group over them, a blatant reference to The Mavericks.
Still, they produced some great songs that any casual fan of nineties country will be familiar with.
"Goodbye Says it All"
from the 1994 album BlackHawk

Their debut single demonstrated their ease at crafting hooks tailor-made for country radio.