Break out the eye-drops, gang, this one's a longread!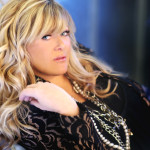 Jamie O'Neal's time in the mainstream country spotlight was short, but memorable. She kicked off her career with back-to-back number one hits "There Is No Arizona" and "When I Think About Angels," which powered her 2000 debut album Shiver to gold certification. However, subsequent single releases stalled at radio and her planned follow-up album was shelved, eventually leading to the end of her deal with Mercury Records. A tenure at Capitol produced the 2005 album Brave and another pair of hits with "Trying to Find Atlantis" and "Somebody's Hero," but history eventually repeated itself with further unsuccessful singles and never-released albums.
Now Jamie O'Neal is embarking on a new chapter as the head of her own Momentum record label, free of major label constraints and of the need to depend on radio play. Her fans' wait for new music is finally over as she preps to release her first new album in nearly a decade with Eternal, due out May 27, on which she covers a selection of classic tunes that helped shape her into the artist she eventually became.  I recently had the chance to sit down with Jamie O'Neal to talk about these exciting new career developments.