Here's hoping you haven't gotten completely burned out on countdowns yet. 2009 was hardly a favorite musical year for many of us, but amid each year's glut of throwaway items, there's always a good'un or two (or forty). The following is the first installment of our Best Singles of 2009 list, which will conclude tomorrow morning. Best Albums will follow next week.
As with the Singles of the Decade feature, this countdown has been compiled through combination of four equally weighed Top 20 lists by Kevin, Leeann, Tara and myself. An inverted point system was applied to the individual rankings (#1 on a list meant 20 points, while #20 on the list meant 1 point). The songs were then ranked together by number of total points, greatest to least. The final result is another rather stylistically diverse set.
As always, we hope you enjoy the countdown, and welcome all the feedback you can muster. Happy New Year!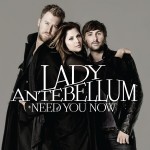 #40
Lady Antebellum, "Need You Now"
The trio puts a country spin on an old school pop sound, but without forsaking raw emotion. The highlight of the song is Hillary Scott's smoky performance, which draws out all the anguish and regret you'd expect from a desperate, 1 AM lover's call. – Tara Seetharam