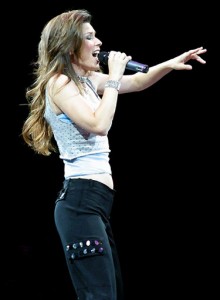 There were two solo artists who changed the course of country music history in the nineties. The first was Garth Brooks, who ushered in the boom years with his mega-selling albums No Fences and Ropin' the Wind. The second was Shania Twain, who permanently altered the female point of view in country music with her mega-selling albums The Woman in Me and Come On Over.
Twain's debut album was decent enough, with some charming singles like "What Made You Say That" and the Gretchen Peters-penned "Dance With the One That Brought You" being among the highlights. But it was the combination of Twain's pen and Mutt Lange's production that made her a superstar. Throughout her career, she's been a champion of mutual monogamy and carefree independence. She didn't protest for women to be treated with equality and respect so much as write from the assumption that no other option had ever existed.
In truth, all three of her self-written albums are essential listening, but if none of the 60 million albums that Twain has sold are in your personal collection, here are some tracks to help you get started:
Ten Essential Tracks
"Whose Bed Have Your Boots Been Under?"
From the 1995 album The Woman in Me

For all the heat Twain gets for being too pop, it's hard to imagine anything this country getting played on even country radio today, let alone pop radio.
"Any Man of Mine"
From the 1995 album The Woman in Me

There were two songs from this album that essentially powered it toward becoming the best-selling female country album up until that point. I've always preferred this one over "I'm Outta Here!"