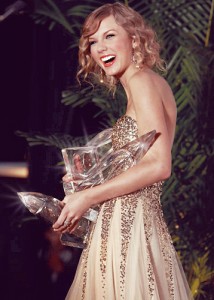 As we did last year, it's time to share our preferences for this year's CMA Awards. Last year, Taylor Swift was the belle of the ball, winning four awards. Some long winning streaks came to an end, as Swift replaced both Kenny Chesney as Entertainer of the Year and Carrie Underwood as Female Vocalist of the Year. Lady Antebellum ended Rascal Flatts' long run as top Vocal Group, and were the surprise winners of Single of the Year as well.
Once again. I've selected the five artists that I believe are most deserving of an Entertainer of the Year nomination. But first, let's take a look at last year's race:
Entertainer of the Year (2009)

Kenny Chesney
Brad Paisley
George Strait
Taylor Swift
Keith Urban
Swift was victorious in her first nomination in this category. She competed against three previous winners: Kenny Chesney, who has gone 4 for 8 in this category; Keith Urban, who is 1 for 5; and the incomparable George Strait, who is 2 for 17. Brad Paisley lost for the fifth year, tying Kenny Rogers for the most nominations without a win.