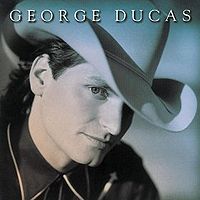 Lipstick Promises
George Ducas
1994
Peak: #9
Written by George Ducas and Tia Sellers

One hit wonders were once an anomaly in country music. The nineties changed that, as the massive commercial success of the genre inspired more labels to get into the game. The result was more artists than country radio could ever play regularly, so even a breakthrough top ten hit was no longer enough to get radio to automatically give the next single a shot.
George Ducas was one of the earliest casualties of this new era. With a voice like Dwight Yoakam with a touch of Raul Malo, Ducas showed tremendous promise as a singer-songwriter. There's a beautiful melancholy to his performance of "Lipstick Promises." It's the tale of a man who has been blinded by beauty and ends up being burned by his unfaithful lover.