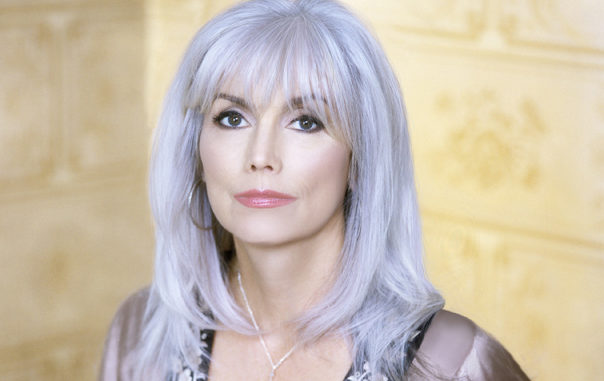 100 Greatest Women: 10th Anniversary Edition
#5
Emmylou Harris

2008 Edition: #4 (-1)
The living embodiment of artistic integrity, Emmylou Harris has been creating acclaimed music for more than four decades, building up the most consistent catalog in the history of country music. In her early days, her mix of contemporary songs and classic country songs was seen as forward-thinking and progressive, but over time, she would be seen as a protective guardian of country music's heritage, even when she strayed far away from it on her own recordings.
Her own roots were not in country music, as she was an aspiring folk artist in her early days. While she was also interested in drama, she was increasingly drawn to the folk songs of Bob Dylan and Joan Baez, eventually leaving college and moving to New York in 1968. However, the folk scene was beginning to die down, and though she found occasional work, it wasn't much. She married in 1969, and worked as a waitress to supplement the meager income brought in by her Greenwich Village coffeehouse performances.
In 1970, she recorded her debut album, Gliding Bird, for the struggling independent label Jubilee Records, which folded shortly thereafter. Harris would later call the album a disaster, and disowned it so much that she named her fourteenth studio album Thirteen. Disenchanted with the New York scene, and her first marriage coming to an end, she moved to Nashville briefly, but then relocated to her parents' home in Maryland, feeling disconnected from music until she discovered the music scene in Washington D.C., through which she would met a young performer named Gram Parsons.
Chris Hillman, lead singer of The Flying Burrito Brothers, caught a Harris performance, and recommended her to Parsons, the former lead singer of the band, who was looking for a female singer to complement his vocals on his solo album, GP. Parsons and Harris quickly became musical soulmates, and he turned her on to hardcore country music that she had never heard before. She was particularly drawn to the Louvin Brothers and George Jones. Harris joined Parson's Fallen Angels band, and sang on both GP and its follow-up, Grevious Angel, creating tracks that would become classics, such as "Love Hurts" and "In My Hour of Darkness."
Sadly, that second album was released posthumously, as Parsons died of a drug overdose in 1973. Harris was devastated; she moved back to D.C., where she put together a group of musicians that she dubbed the Angel Band. By then, she'd found a friend and fan in Linda Ronstadt, who invited her to Los Angeles. Ronstadt would later recall that when she first heard Harris, she realized that there was another girl doing the same thing she was doing, only better. Ronstadt invited Harris to sing on her Heart Like a Wheel album, and was instrumental in Harris earning her own recording contract.
In 1975, with producer Brian Ahern, she began crafting Pieces of the Sky, her first country album. The album was meticulously produced, with far more time spent in the studio than was the Nashville standard at the time. Harris covered songs by her favorite artists of all genres, including The Beatles ("For No One"), Dolly Parton ("Coat of Many Colors"), Merle Haggard ("Bottle Let Me Down"), and the Louvin Brothers. Her take on the Louvins classic "If I Could Only Win Your Love" would become her breakthrough hit.
The album was a surprise success, selling gold. The rock press swooned over her own composition, "Boulder to Birmingham", which dealt candidly with her emotions over Parson's death. It was also historically significant for introducing a young writer named Rodney Crowell to the world, who was a member of her Hot Band, her backing group that would become legendary. Over the years, several major figures in country music would emerge from behind Emmylou, most notably Crowell, Ricky Skaggs and Emory Gordy, Jr.
The success of Sky had Harris' label eager for a follow-up, and later in 1975, she released Elite Hotel. It was slightly less cohesive than its predecessor, featuring a mix of live tracks and studio recordings, but became a bigger hit, topping the album charts and producing major hits like "One of These Days" and her covers of Patsy Cline's "Sweet Dreams" and Buck Owens' "Together Again." For the album, Harris won her first of fourteen Grammys. It also featured the first recording of the Rodney Crowell standard "'Til I Gain Control Again", which would be a No.1 hit for Crystal Gayle years later.
Her third album, Luxury Liner, continued the formula of mixing creative pop covers ("C'est La Vie") with classic country songs ("Making Believe") and new, contemporary material. She again drew on the talents of Rodney Crowell, cutting his classic "Even Cowgirls Get the Blues" for the project. By this time, Harris was hearing criticism that she was too dependent on cover material, so on her fourth album, she included only new songs.
The result was Quarter Moon in a Ten Cent Town, which featured new songs by Dolly Parton ("To Daddy"), Rodney Crowell ("I Ain't Livin' Long Like This", "Leavin' Louisiana in the Broad Daylight"), and up and coming singer-songwriters Carlene Carter ("Easy From Now On") and Delbert McClinton ("Two More Bottles of Wine.") It eventually became another gold album, and was followed by a gold-selling greatest hits set later in 1978.
Annoyed by her label's desire to push her to the pop market, she set out to prove she could record a pure country album, and did so with 1979's Blue Kentucky Girl, which was a traditional record from top to bottom and earned her another Grammy. For her next album, she pushed the envelope even further, recording a bluegrass album called Roses in the Snow. Even though radio didn't embrace it like her previous albums, it ended up a smash hit, which Harris later credited to the fact that there's a huge audience for bluegrass music that labels simply don't cater to the way that they should. The album was an instant classic, winning her a Grammy and earning her 1980's CMA Female Vocalist of the Year trophy.
She went back to the variety pack formula of her earlier records with her next two studio albums, Evangeline and Cimarron, which were compiled mostly from leftover tracks from previous recording sessions. Evangeline was her eighth and final gold solo album, and featured support from Dolly Parton and Linda Ronstadt on "Mr. Sandman," though their voices were removed from the single release because of label disputes. In 1982, Last Date became her first live album, unique in that it didn't include live versions of any previously released material.
In 1983,  White Shoes, her last album with Ahern, was a deliberate attempt to make a rock-flavored record, and it featured fascinating covers of Donna Summer's "On the Radio" and the Marilyn Monroe soundtrack hit "Diamond's are a Girl's Best Friend." A single from the project, "In My Dreams," was another Grammy winner.
The rest of her eighties albums were fairly pedestrian, by Harris standards at least, with the exception of three unconventional projects that were also her best work during that time. In 1985, Harris released the semi-autobiographical concept album The Ballad of Sally Rose, which was her first release to be dominated by self-written material. In 1987, she released Angel Band, a powerful collection of spiritual gospel numbers.
But it was a release from earlier that year that garnered the most attention, as her long-awaited collaboration with Dolly Parton and Linda Ronstadt was released to rave reviews and huge commercial success. The album Trio eventually sold two million copies, was nominated for Album of the Year at the Grammys, and won a country Grammy, and CMA and ACM awards. More than a decade later, a reunion album would also go gold and win a Grammy.
In the nineties, Harris brought her long tenure at Warner/Reprise to an end, finishing her contract with 1992's Grammy-winning At the Ryman. Recorded live at the Ryman Auditorium, it was widely credited with bringing much-needed attention to the historical landmark, and helped get renewal efforts for the theater off the ground.
After a critically lauded album for Asylum, Cowgirl's Prayer, Harris felt musically restless, and began working with rock producer Daniel Lanois. The album that emerged from those sessions was Wrecking Ball, which featured experimental rhythmic sounds and top-notch material from writers as diverse as Jimi Hendrix and Gillian Welch. The album reinvented Harris as an alternative country artist, and exposed her to a new, young fan base. Wrecking Ball was honored with the Grammy for Best Contemporary Folk Album, and led to an equally adventurous live album, Spyboy.
In 1999, Harris collaborated with Linda Ronstadt on Western Wall: The Tucson Sessions, which led to a popular tour featuring both women. In 2000, her first solo album in five years, Red Dirt Girl, was another Grammy winner, and was notable for being her first since Sally Rose to be dominated by self-penned songs. At the turn of the century, her roots credibility was further reinforced by her participation in the O Brother Where Art Thou soundtrack, which led to another Grammy and a CMA award.
Her 2003 album Stumble into Grace sold strongly and also featured self-written material. Harris collaborated with Dire Straits frontman Mark Knopfler for a studio album, which was followed by a tour and a live album. She was featured on the Brokeback Mountain soundtrack in 2006, singing "A Love That Will Never Grow Old," which won a Golden Globe for Best Original Song. In 2007, Harris released a four-CD set of rarities entitled Songbird: Rare Tracks & Forgotten Gems. The 78-track collection did not include a single track from her first box set, Portraits, which included 61 tracks through 1995, a fact which helps illustrate just how deep her body of material is.
In 2008, Harris returned to solo recording with All I Intended to Be, which was her highest-charting solo album in 28 years, and pushed her past 1,000 weeks logged on the country albums chart, a tally that doesn't include Wrecking Ball or O Brother. More significantly, it was announced that she was one of 2008's inductees into the Country Music Hall of Fame, a fitting honor for an artist who has done more to champion the genre's rich history than any other woman.  The ACM followed with the Cliffie Stone Award in 2011, and the Grammys with the Lifetime Achievement Award in 2018.
Harris released her most recent solo album, Hard Bargain, in 2011, which reached #3 on the country albums chart and #18 on the overall albums chart, the latter being her highest ranking ever with a solo release. She also collaborated on a pair of albums with Rodney Crowell. Their first set, Old Yellow Moon, won a Grammy and a pair of Americana Awards.  They followed up with The Traveling Kind in 2015, which won another Americana Award for their popular duet act. Harris also played a major role in revisiting her historic collaboration with Dolly Parton and Linda Ronstadt, as they released The Complete Trio Collection in 2016.  Recently, it was announced that the three ladies would share a star on the Hollywood Walk of Fame under the Trio moniker.
More than forty years after her first album was released, she is still crafting critically acclaimed music that illustrates her continued artistic relevance. Long after radio left her behind, Harris has continued to not only connect with her audience, but build on it, challenge it and surprise it as well. She was the genre's first female album artist, and even now, she's still arguably the best.  In a genre rich with legendary singers and entertainers, Emmylou Harris is a legendary artist.
Essential Singles
If I Could Only Win Your Love, 1975
Boulder to Birmingham, 1975
Together Again, 1976
One of These Days, 1976
Sweet Dreams, 1976
Making Believe, 1977
To Daddy, 1977
Two More Bottles of Wine, 1978
Easy From Now On, 1978
Beneath Still Waters, 1980
Wayfaring Stranger, 1980
The Boxer, 1980
If I Needed You (with Don Williams), 1981
Born to Run, 1982
In My Dreams, 1984
Essential Albums
Pieces of the Sky, 1975
Elite Hotel, 1975
Quarter Moon in a Ten Cent Town, 1978
Blue Kentucky Girl, 1979
Roses in the Snow, 1980
The Ballad of Sally Rose, 1985
Trio (with Dolly Parton and Linda Ronstadt), 1987
At the Ryman, 1992
Cowgirl's Prayer, 1993
Wrecking Ball, 1995
Red Dirt Girl, 2000
Stumble into Grace, 2003
Industry Awards

Academy of Country Music Awards

Album of the Year

Trio (with Dolly Parton and Linda Ronstadt), 1988

Cliffie Stone Pioneer Award, 2011

Americana Music Association Honors & Awards

Album of the Year

Old Yellow Moon (with Rodney Crowell), 2013

Duo/Group of the Year

Emmylou Harris & Rodney Crowell, 2013, 2016

Lifetime Achievement Award for Performance, 2002

Country Music Association Awards

Album of the Year

O Brother Where Art Thou?, 2001

Female Vocalist of the Year, 1980
Vocal Event of the Year

Trio (with Dolly Parton and Linda Ronstadt), 1988

Country Music Hall of Fame, 2008
Grammy Awards

Album of the Year

O Brother Where Art Thou?, 2002

Best Americana Album

Old Yellow Moon (with Rodney Crowell), 2014

Best Contemporary Folk Album

Wrecking Ball, 1996
Red Dirt Girl, 2001

Best Country Collaboration With Vocals

Same Old Train, 1999
After the Gold Rush (with Dolly Parton and Linda Ronstadt), 2000

Best Country Vocal Performance by a Duo or Group

That Lovin' You Feelin' Again (with Roy Orbison), 1981
Trio (with Dolly Parton and Linda Ronstadt), 1988
At the Ryman (with the Nash Ramblers), 1993

Best Female Country Vocal Performance

Elite Hotel, 1977
Blue Kentucky Girl, 1980
In My Dreams, 1985
The Connection, 2016

Lifetime Achievement Award, 2018

International Bluegrass Music Association Awards

Album of the Year

O Brother Where Art Thou?, 2001
Down From the Mountain, 2002
Livin', Lovin', Losin': The Songs of the Louvin Brothers, 2004

Recorded Event of the Year

Will the Circle Be Unbroken? Volume III, 2003
Livin', Lovin', Losin': The Songs of the Louvin Brothers, 2004
100 Greatest Women: 10th Anniversary Edition
Next: #4. Reba McEntire
Previous: #6. Tammy Wynette